++ADDED TO INVENTORY 3/14/14++
NEW! Tree and Forest sets from PMD!
Tree Stands/Bases with Trees! Medium Tree/Rock Set! Large Tree/Rock set!
Large Tree/Rock set! Modular Forest Sections w/Trees!
IN STOCK AND SHIP IMMEDIATELY!
++ADDED TO INVENTORY 2/20/14++
21 x VARIOUS EQUIPMENT MINIATURE BASES!
The Pack here with some samples, click to see more!
++ADDED TO INVENTORY 2/17/14++
BACK IN STOCK!
CHECK OUT THESE GREAT 28MM BUILDINGS ALSO!
++ADDED TO INVENTORY 12/14/13++
NEW MINIATURE BASES!!
++ADDED TO INVENTORY 11/16/13++
++ADDED TO INVENTORY 10/17/13++
PRO PAINTS CLEARANCE SALE - $1.25 EACH!

++ADDED TO INVENTORY 9/22/13++
++ADDED TO INVENTORY 7/02/13++
28MM COPPLESTONE CASTINGS RUSSIANS ADDED TO THE LINE UP!
++ADDED TO INVENTORY 12/15/12++
New in inventory from Frontline Games!
++ADDED TO INVENTORY 11/12/12++
The new Army books from Frontline Games for their game Frontline Command WWII - 28 page army books, several new data cards for each, and new templates for the U.S. Army. Click images below for further information.
U.S. ARMY 1942-1945 "GENERAL ISSUE" & GERMAN ARMY 1943-1945 "FOR THE FATHERLAND"
++ADDED TO INVENTORY 10/25/12++
Now in Inventory, West Wind Soviet Squad pack with seperate heads.
++ADDED TO INVENTORY 10/1/12++
FRONTLINE GAMES - FRONTLINE COMMAND NEW BATTLE SETS - SAVE UP TO 35% WHEN BUYING THEM!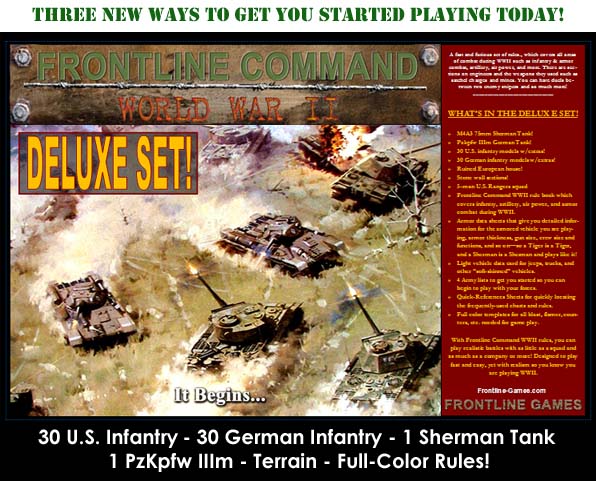 Buy one of these "Battle" sets and save up to 35% on the deals - click above for more details!
++ADDED TO INVENTORY 10/1/12++
++ADDED TO INVENTORY 10/1/12+
BLACK TREE DESIGN 28MM W.W. II
We just stocked many new codes and with a discount so have a look!
++ADDED TO INVENTORY 9/8/12+
New from Frontline Games for their FRONTLINE COMMAND W.W. II game
All of the kits are undergoing changes and will be coming back into stock as they are re-released. These are some of the first. The new Shermans feature all metal tracks and new white metal bits!
1:50th/28mm Combat scale Armor for 28mm Gaming!
Check out the writeup for building one out of the box here, and painting the same one here - very cool!




Our Mission
We are excited to be bringing you the most comprehensive 28mm World War II miniature game inventory on the Net! Please check back often to see what's new, and don't forget to join our mailing list so that you can keep up to date on our newest table-top gaming inventory items being added regularly, as well as sales and special promotions that we will be offering!
Please email us if you have any questions or comments.
*************************************************************************************************
International Shipping Procedures - PLEASE READ!
If you are NOT in the continental United States and you are placing an order, please do not complete the payment process. Our system is not set up to calculate international shipping, so we must manually adjust your shipping cost after you place your order and before you complete payment. If you have already submitted your payment with the domestic shipping rate applied, we will need to bill you separately for the additional shipping and handling amount.
Thank you for your patience while we try to find a more suitable system.
Copyright © BATTLEMART. All Rights Reserved
TELL US WHAT YOU WANT!

We are always looking for cool stuff, so if you dont see what you are looking for or would like to recommend something to us - please do!